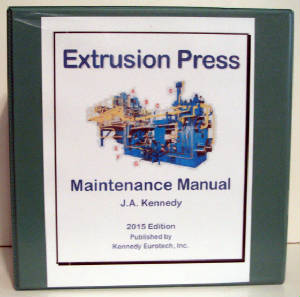 We are pleased to present the latest edition of the Extrusion Press Maintenance Manual.
The new 416-page manual is designed to assist plant engineers and maintenance managers, especially in cases where experienced maintenance people have retired or original manuals have been lost. It will be valuable for training new workers, for documenting procedures for ISO 9000 certification, and as general information for extrusion companies' upper management.
This unique manual, which documents in detail all aspects of extrusion press maintenance, was prepared by drawing on my 30 years of experience in the extrusion industry, and on published references. In addition, selected presentations by industry experts on several critical topics, such as electrical and hydraulic system maintenance and repair of major components, have been incorporated in the manual with permission of the authors.
The loose-leaf manual contains some 317 illustrations plus tables, charts, and useful references, as well as Preventive Maintenance Schedules in spreadsheet format, to permit the user to customize the schedules for individual requirements.
To order the manual online please go to the Home page above !! If you require immediate delivery, the complete manual is available in Adobe pdf format by large file transfer (28 Mb) for US$ 50.
| | |
| --- | --- |
| | USD$50 - Manual by electronic transfer - *.pdf format (large file transfer). PLEASE INCLUDE E-MAIL ADDRESS. |